The recipe for success
The cooking challenge will be led by Manu. The fundraising challenge is in your hands. Don't worry though, you don't have to be an expert in the kitchen. It just takes a cup of enthusiasm, a sprinkle of humour, a dash of bravery and the time of your life!
In the lead-up to your cooking class, you'll ask your friends, family and work mates to support your culinary challenge by donating to your fundraising page. Every dollar you raise will support breast cancer trials research and help find more effective ways to treat, prevent and ultimately cure breast cancer. So be enthusiastic, tell them why it means so much to support Breast Cancer Trials and why you're taking on the challenge.
Then it's time for the virtual cooking class of a lifetime. On 29 August, between 1PM - 3PM AEST, you'll participate in a live-streamed interactive event with Manu Feildel and all the other 3 Course Challengers. After you've learned how to whip up Manu's merveilleux menu, you'll be well prepared to host a fantastique French dinner party for your loved ones (or your own household, depending on your local social gathering rules). Either way, it will be a precious night to remember, and one that can save lives.
We believe that no woman should live with the fear of breast cancer. It's time to be fearless in the kitchen to help protect our loved ones from breast cancer.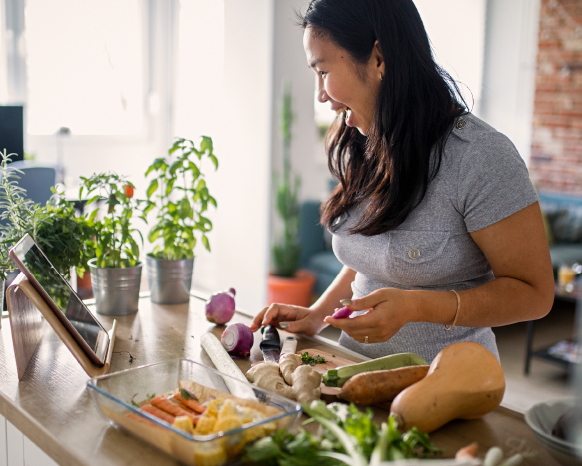 Breast Cancer Trials, Manu & You
"My mother really gave me the love of cooking," Manu says. "She taught my sister and me how to create so many dishes in our kitchen. Much of the inspiration for my first cookbook was from recipes Mum cooked or taught me to cook over the years."
When Manu's mother, Evelyne, was diagnosed with breast cancer late last year, it came as a shock to everyone. She had no symptoms, but was encouraged by a letter in the post to get a screening mammogram because of her age. That decision may have saved her life. The doctors found a lump, and after further tests, they discovered that she had breast cancer.
Evelyn was lucky her breast cancer was detected early. She had surgery and was treated with chemotherapy. "Chemotherapy is a smack in the face. It really takes over your body and the loss of hair!" Manu said. "But we've been able to laugh about it. My stepdad has no hair either, so we've been joking, 'Oh, do you guys use the same brush?'"
Manu knows that the treatment that saved his mother's life was only possible because of clinical trials research. Now, he wants to make sure that everyone can survive a breast cancer diagnosis, like his mum did.
"My mother taught me everything I know about food and cooking...cutting apples for sweet tarte tatin, and helping mum bake a delicious marble cake are some of my first memories. I've spent my life trying to recreate the pleasures of these moments."
This is your chance to create a precious moment with friends and loved ones, precious moments that you can cherish forever.
Register today and get access to everything you need to create a dinner party filled with precious laughter, joy and memories.

Step 1 Register.
Register for the 3 Course Challenge for free today. We'll send you an email to get started and set you up with a fundraising page. Click here to get started.

Step 2 Get support and plan your dinner party.
This is where the fundraising part of the challenge kicks into gear. Ask your dinner guests to donate the cost of a fancy French meal, and ask your wider network of friends and family to support you and this important cause too. When you invite your guests, let them know why you're raising money, and that you need their help!

Step 3 Cook with Manu.
Manu will be hosting an exclusive and interactive livestreamed cooking class on 29 August from 1PM - 3PM AEST. Ask all those burning culinary questions and learn how to put your delicious three-course meal together. To unlock the class, as well as the menu, ingredients list and recipes, raise at least $150.

Step 4 Host your party.
A night of precious moments is coming your way! You can host your dinner party on the evening of 29 August or anytime until 14 September. Please follow social distancing guidelines and social gathering rules in your area.
Your Challenge Kit
As soon as you sign up, you'll get exciting 3 Course Challenge resources like table setting tips, place cards, an invitation template, French Trivia to play with your dinner party guests and more.
Then once you raise your first $150, you'll unlock access to Manu's cooking class as well as the menu, recipes and ingredient list. Then keep going to see how much you can raise, every dollar counts!

Top Fundraiser
Win a $1,000 Woolworths Gift Card

2nd Highest Fundraiser
Win a customised 'The Chef' knife valued at $850, handmade in Melbourne by Cut Throat Knives.

3rd Highest Fundraiser
Win a 26 piece Wedgwood Gio contemporary dinner set of stylish white fine bone china, valued at $500.

Reach $350 or more
Go into the draw to win a year's supply of Carême Pastry + a mini cookbook. (20 people will win!)

Reach $250 or more
Go into the draw to win Manu's Prize Pack featuring a selection of Manu's "The Sauce" range and a hand-signed copy of his Manu's French Bistro Cookbook.
3 Course Challenge Leaderboard